In this video, Leon Fu and I will do a comprehensive review and testing of the iOS native bitcoin wallet called  Breadwallet which was developed by the programmer, Aaron Voisine.
We believe that the Breadwallet app designed to store and secure your bitcoins on the iOS platform is the greatest technological advancement for bitcoin in 2014 due to it's simplicity and extreme user friendliness.
We want to put this video review out as soon as possible so people can start using Breadwallet.  The transcription for this video will come later.
This is what the Breadwallet icon looks like on your iPhone homescreen:
After you tap on the Breadwallet icon, it opens up to the following login screen so that you can enter your pin and login: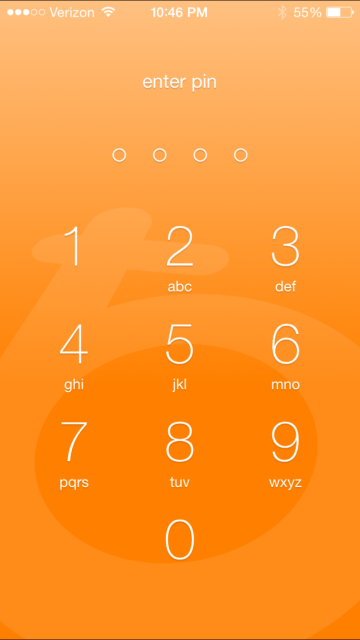 Once you log into the Breadwallet, there are only 3 screens which eliminates confusion and increases the user friendliness of the app.
Receiving Money
In Breadwallet
The first screen is the "Receive Money" screen which contains a QR code and your bitcoin receiving address so that other people can send you bitcoins: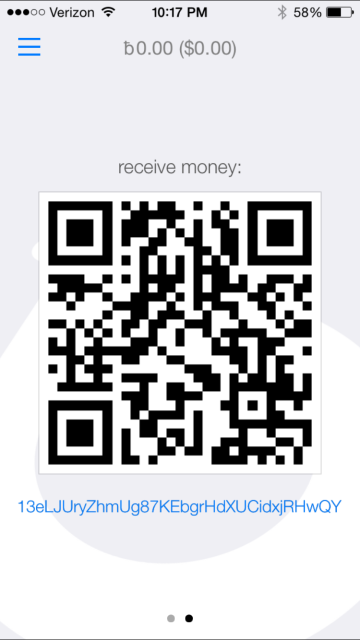 This is what it looks like after you receive some bitcoins (below):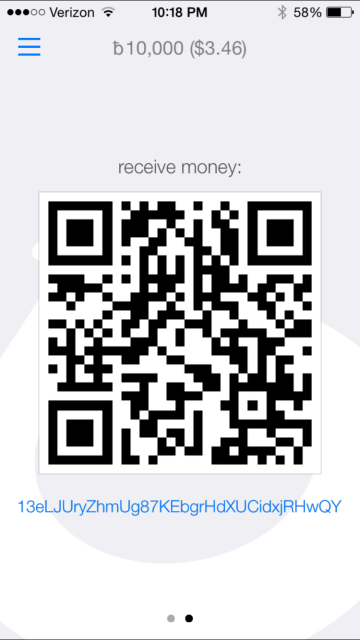 Breadwallet uses a hierarchical deterministic approach to increase  wallet security, therefore, each time you send or receive bitcoins, Breadwallet will automatically create a new bitcoin address.
Below, you can see how Breadwallet immediately created a new QR code and receiving address right after I received the 10,000 mBTC from Leon: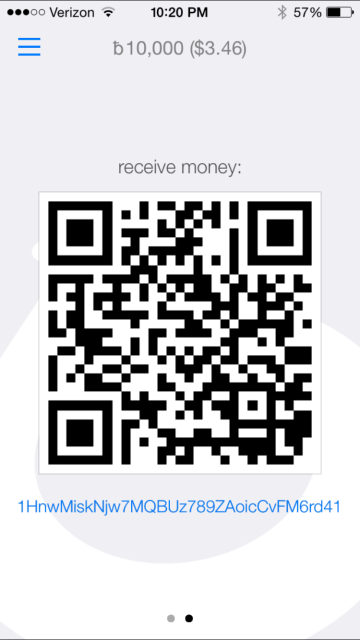 Aaron Voisine chose to use "bits"as the unit of denomination in his Breadwallet.
In case you didn't know, 1,000,000 bits = 1 bitcoin.
Confirming Bitcoin
Transactions In Breadwallet
The 2nd screen in Breadwallet is the "Confirmation" screen which displays a timestamp of your transactions and allows you to check the number of confirmations that has occurred after you send or receive some bitcoins: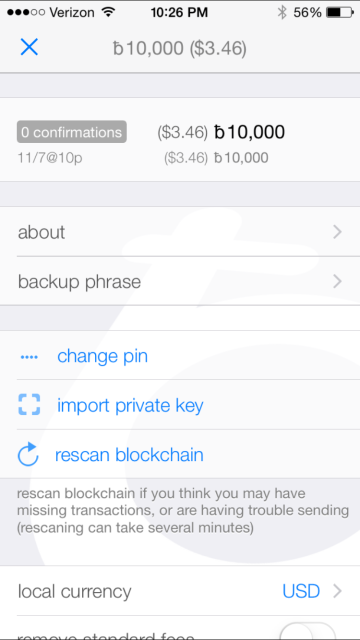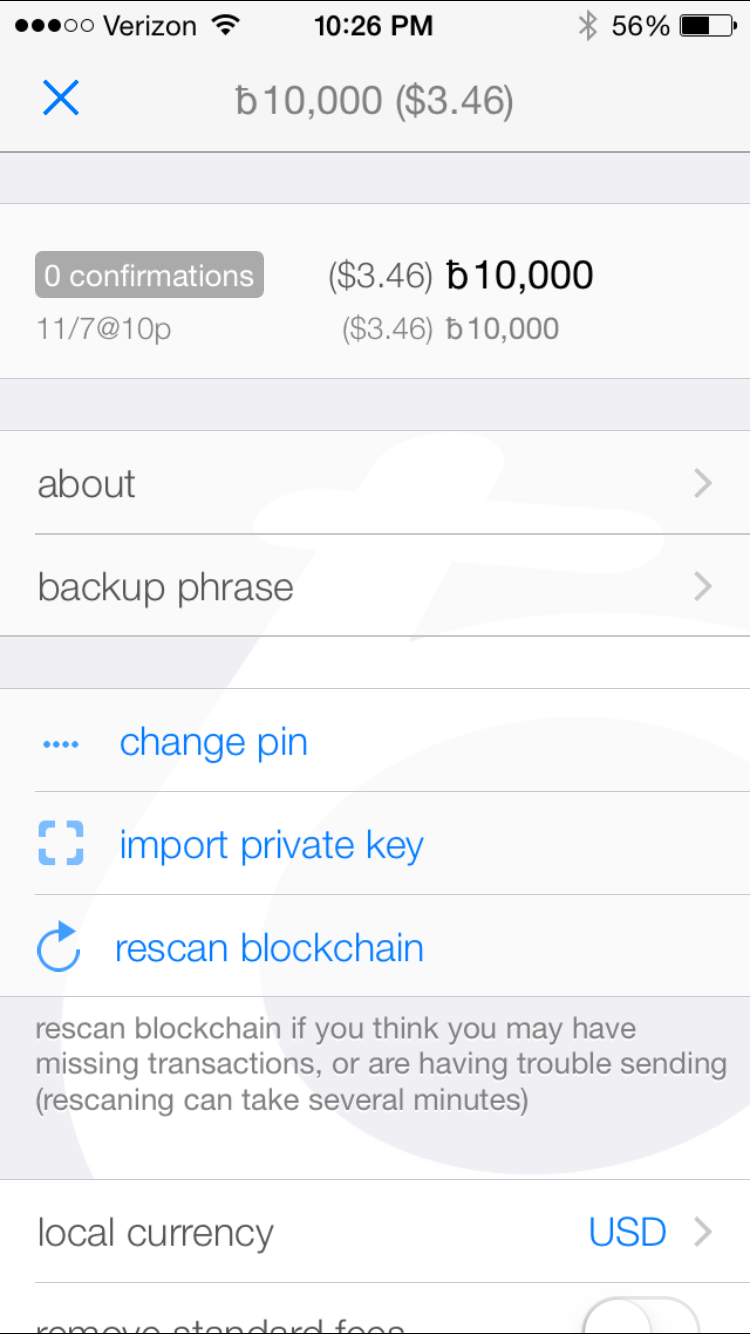 After your bitcoin transactions have been confirmed, then the confirmation portion of the screen disappears to eliminate clutter: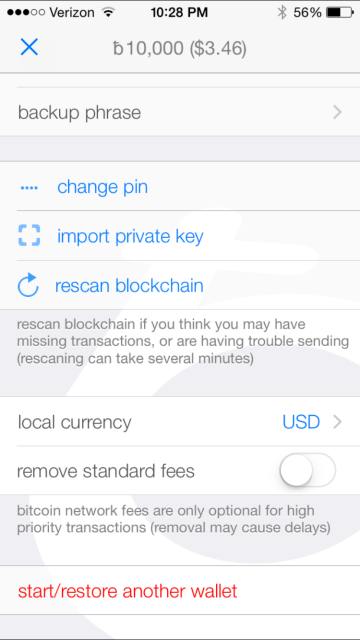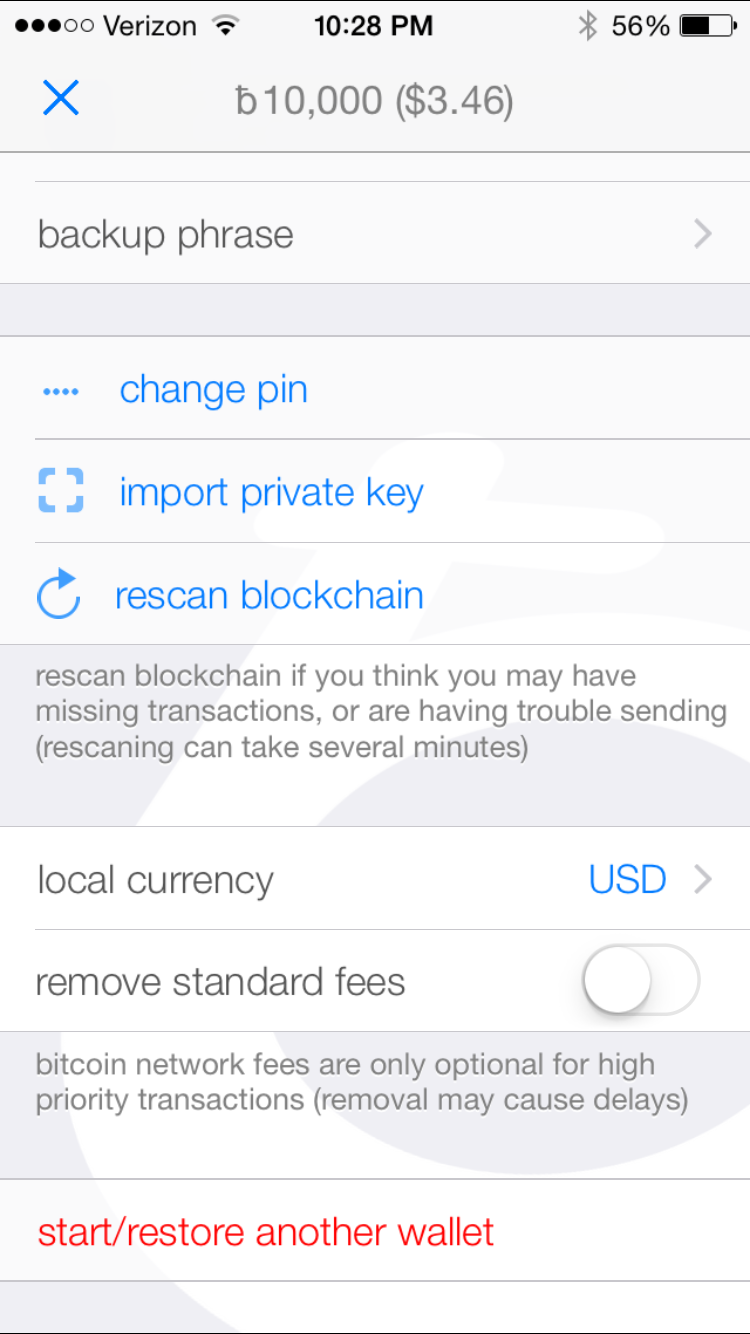 The "confirmation" screen also allows you to:
change or update your pin
import private key
rescan the blockchain
set your local currency
remove standard fees
start/restore another Breadwallet
Etc.
In the video, the amount of bitcoins that Leon is sending me is relatively small so it takes a little longer for the transaction to be confirmed (below):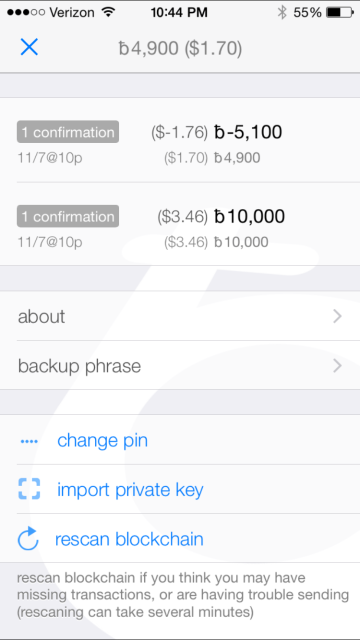 As you can see in the image (above), the first transaction has still not been confirmed yet and we have already sent half the bits of bitcoin back to Leon.
There is a danger of other apps on your phone inadvertently or purposely "snoop" in on your Breadwallet app.  There, Aaron Voisine does not recommend you take screenshots of the Breadwallet app for security reasons.
Warning About Taking
Screenshots Of Breadwallet
Breadwallet will warn you about the dangers of taking screenshots of your Breadwallet app when you are using it by flashing you a warning before you take a screenshot (below):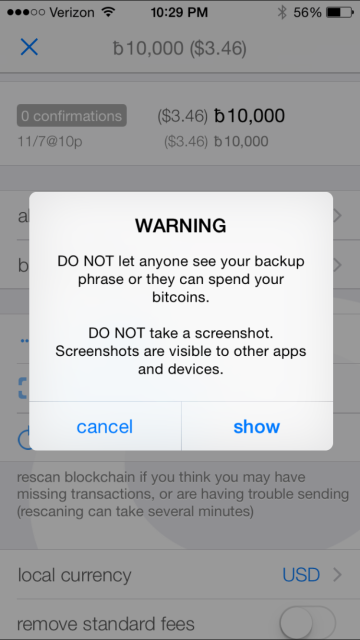 Here is another similar warning about the dangers of taking screenshots of your Breadwallet app (below):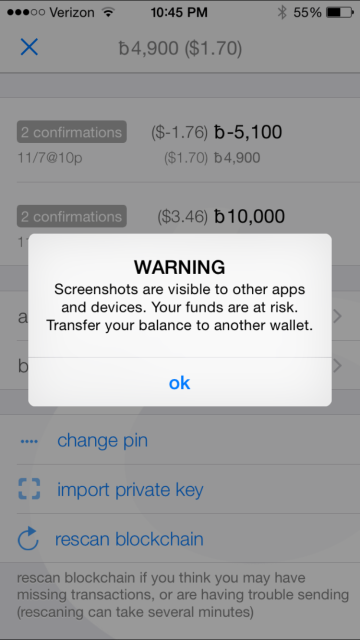 Sending Money
In Breadwallet
The 3rd and last screen in Breadwallet is the "Send Money" screen which is very clean and uncluttered (below):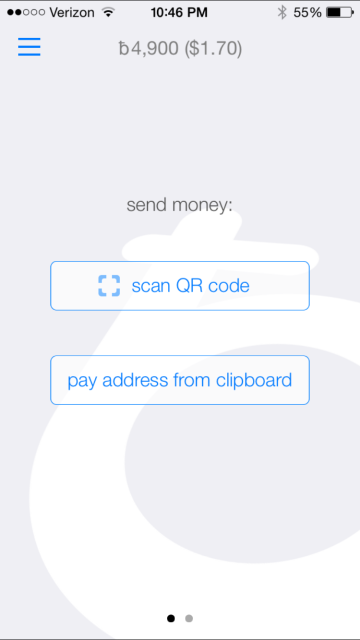 Breadwallet allows you to send bitcoins by simply scanning a QR code or pay an address that has been copied to your clipboard.
At 6:45 minutes into the video, we mentioned you don't necessarily want to keep all your bitcoins in Breadwallet on the iPhone (below):
Aaron Voisine, the developer of the Breadwallet, emailed us some commentary regarding the statements we made.
Aaron Voisine states:
"I noticed that you recommended that mobile wallets should just be used for small amounts, but I'm not sure that's a good recommendation for the vast majority of the public.
The iPhone in particular is the best protected against malware of all the popular computing platforms, and devices are hardware encrypted by default, providing strong protection even if the phone is physically stolen.
Desktop wallets are far more vulnerable to bitcoin stealing malware.
Web and hosted wallets are vulnerable to phishing, man-in-the-middle and malware as well.
They don't insure losses if you access your account from an infected
computer.
We think the security of breadwallet compares well even with dedicated hardware wallets.
Your private keys are stored securely in the iPhone secure enclave which Apple claims is secure even if the kernel is compromised.
Also unlike the current generation of hardware wallets, Breadwallet performs cryptographic verification of blockchain data and
payment requests right on the malware hardened device.
Hardware wallets have to trust a potentially infected host system for that information.
Keeping your private keys offline is always the best protection
against malware, however there have been many reports of funds have been lost due to people not understanding how change addresses work.
I'd love to hear what you think about the security points I raised
above, and thanks again for the review!"
Tai's Response:  Obviously, I am not technically savvy enough to understand all the points that Aaron made.  However, I did check with my buddy Leon Fu, who is an iOS developer and he agrees with Aaron's statements and commentary regarding the iPhone security.
I also want to clear up that what Leon and I meant in the video is that you would only carry 1-2 bitcoins on your iPhone (or smart device) and treat it like any regular wallet in which you carry your cash.
Most people do not carry $10,000 USD in their regular cash wallets in case you lose your wallet or it gets stolen.
Likewise, we don't recommend you carry $10,000 USD worth of bitcoins on your smartphone or device either.
However, according to Aaron Voisine, we should feel very comfortable and safe using the Breadwallet to store any amount of bitcoins because the security of the iPhone combined with the security of bitcoin makes it very safe.
My understanding of Aaron's comments and the phone discussion I had with Leon is that Breadwallet just as safe or even safer then dedicated hardware bitcoin wallets such as Trezor.
Leon's Response:  Not available at this moment.
Contribute To The
Breadwallet Development
1.  Breadwallet is open source and you can download a copy of it at Github if you want to study the code or contribute to the development of Breadwallet.
2.  I will include the Breadwallet bitcoin donation account number when I find it.  There is not too much info on their Breadwallet website at this moment because they are busy coding the Breadwallet.
3.  You can contact Aaron Voisine via Github or the Breadwallet Twitter feed.
WARNING!!!
Installation on jailbroken devices is strongly discouraged by Aaron Voisine and the Breadwallet crew.
According to Aaron, any jailbreak app can grant itself access to every other app's keychain data and rob you by self-signing as described here and including <key>application-identifier</key><string>*</string> in its .entitlements file.
==================================================
Please leave any questions or comments for us below.
By the way, I'm using the iPhone 6 in the video, if you are able to use the Breadwallet on any previous versions of the iPhone, please let us know in the comment section below so everyone can benefit from it.
You can support and donate to our efforts on our donations page.